It's kind of interesting to see an irresistible force meet an immovable object: i.e. political correctness versus the Washington Redskins. I don't have a dog in the hunt though I have an interest because my alma mater, Miami University, changed from the Redskins to the Redhawks in '97 after about a two-decade power struggle. (Miami University's use of the mascot predates the Washington Redskins by about half a century, but the NFL's power and prestige obviously dwarfs Miami's.)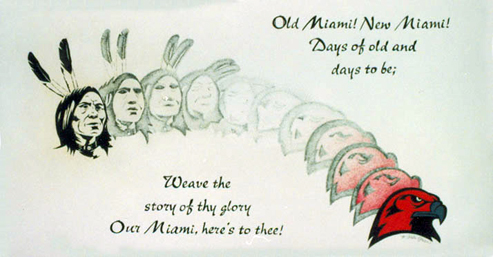 From the mascot of a noble chief to that of a cartoon bird: the story of our time.
National Review
writer Jim Geraghty has this to say:
I have voted for a few Democrats in the past; one of my favorites was voting to re-elect the relatively competent and un-corrupt Tony Williams for Mayor of Washington, D.C., over his (effectively token) Republican rival, Carol Schwartz, was asked about her top priorities and she included changing the name of the Washington Redskins football team. If I were interviewing a candidate and they offered that response, I think I would have exploded from incredulity. I just think that this ought to be nowhere near the top 100 priorities of a mayoral candidate, never mind among their top five or six. It's not like the schools were achieving or crime was off the streets, you know.

Ten members of Congress are urging the Washington Redskins to change their name because it is offensive to many Native Americans.

The representatives said Tuesday that they've sent letters to Redskins owner Dan Snyder, NFL commissioner Roger Goodell, Redskins sponsor FedEx, and the other 31 NFL franchises.

The letter to Snyder says that "Native Americans throughout the country consider the 'R-word' a racial, derogatory slur akin to the 'N-word' among African Americans or the 'W-word' among Latinos."

Among the group sending the letters are the leaders of the Congressional Native American Caucus, Tom Cole, R-Okla., and Betty McCollum, D-Minn.

Having said that . . .

If you were starting an expansion NFL team in Washington, D.C., today, you would never pick the name "Redskins", right?..So if there was no tradition with the name, there would be a broader consensus to change it, right? Yet as any sports fans knows, football fans love their team, and they recoil and deny the notion that they've been rooting for an ethnic slur since childhood.

So, let me offer a solution. Keep the name "Redskins" . . .

. . . and bring in a potato mascot. Idaho's got one already:
Thus, they remain the "Washington Redskins" . . . but the name refers to redskin potatoes.