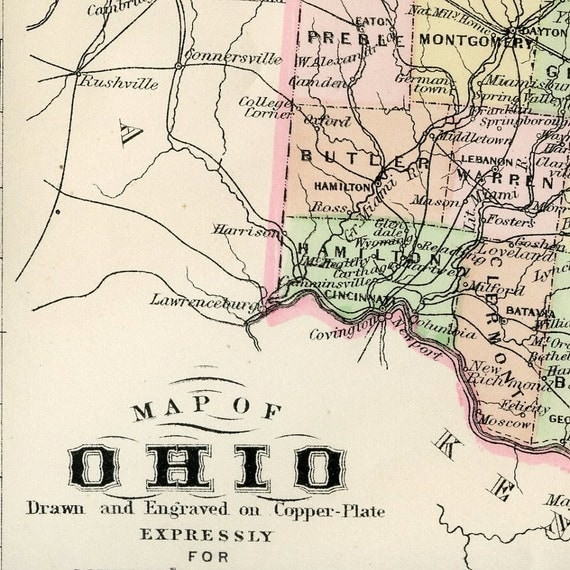 Fun what you can find on the internet. This is from the Ohio section of the 1836 guidebook titled
A New Guide for Emigrants to the West
via Gutenberg site:
*
Animals.

—Bears, wolves, and deer are still found in the forests and unsettled portions of the State. The domestic animals are similar to other States. Swine is one of the staple productions, and Cincinnati has been denominated the "pork market of the world."




Cincinnati

is the great commercial emporium of the State. It is pleasantly situated on the right or northern bank of the Ohio river, about equidistant from Pittsburg and its mouth, in N. lat. 39° 06', and W. lon. from Washington city 7° 25'.




Columbus

, the political capital of the State, and nearly in the centre of the State, is a beautiful city, on the east bank of the Scioto river. In 1812, it was covered with a dense forest, when it was selected by the legislature for the permanent seat of government.
Cleveland

, the "mistake on the lake", brews exceptionally fine beers. [JOKE! Wanted to make sure you were paying attention.]
Education.

—Charters for eight or ten colleges and collegiate institutions have been granted... One township, (23,040 acres,) and a very valuable one, has been given to the Miami University, at Oxford. Two townships of land, (46,080 acres,) though of inferior quality, have been given to the Ohio University.




Antiquities.

—Much has been said about the antiquities of Ohio,—the fortifications, artificial mounds, and military works, supposed to indicate a race of civilized people, as the possessors of the country, anterior to the Indian nations... I have no doubt, however, that credulity and enthusiasm have greatly exaggerated many appearances in the West, and magnified them into works of vast enterprise and labor. Mounds of earth are found in every country on the globe, of all forms and sizes; and why should they not exist in the western valley?

Those who delight especially in the marvellous, may consult the "Description of the Antiquities discovered in the State of Ohio, and other Western States, by Caleb Atwater, Esq

."




History.

—The first permanent settlement of Ohio, was made at Marietta, on the 7th day of April, 1788, by 47 persons from Massachusetts, Rhode Island, and Connecticut. This was the nucleus around which has grown up the populous State of Ohio. Some slight diversity exists, in different sections of the State, in manners, customs, and feelings, amongst the people, in accordance with the States or countries from which they or their fathers emigrated. These shades of character will become blended, and the next

generation will be

Ohians

, or, to use their own native cognomen,

Buckeyes

.